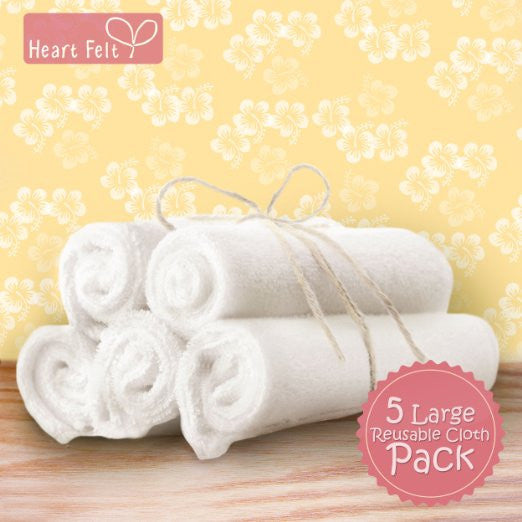 Heart Felt Bamboo Cloth Natural Reusable Baby Wipes (5 Pack, XL)
FOR SENSITIVE SKIN - 100% Pure Organic Bamboo wash cloths are super soft and natural against your baby's delicate skin meaning less irritation and rashes. Hypoallergenic & Unscented.

EXTRA LARGE SIZE - 7.8" by 10.2" is the ideal size for countless uses including reusable baby face wipes, hand wash cloths, drool bibs, burp rags, flannel wipes or as a handy spare towel.

SUSTAINABLE & ECO FRIENDLY - Reusable and washable while remaining super soft and absorbent after countless washes. Once used simply throw them in your normal laundry cycle for quick and easy washing. No more throwing endless disposable wipes in the trash. Enjoy the savings and chemical-free softness.

GENDER NEUTRAL COLOR - Makes a lovely practical gift for a baby boy or girl and looks classy and tasteful in pure white. The perfect baby shower gift idea for that expectant mom. Keep these incredibly handy reusable wipes in your diaper bag or purse, near your baby's car seat, beside your bed, or your baby's bassinet.

SUPER VERSATILE - Not just for babies - you'll find a million and one uses for these as natural makeup removal wipes, scratch free dusters or face washcloths for house guests.
NEXT